Directions to your holiday suite in De Haan
To make your trip comfortable, Holiday Suites presents you important information about the directions. Your holiday will begin excellent that way. You can find below general information, but also specific information about what to type into your GPS or a plan of the domain. We recommend to read everything carefully.
Collecting your key | Digital reception
Read below how to get your key. After that, you enter a magnificent holiday suite.
Step 1
Two days before arrival you'll get an email with your access codes for your stay, make sure that you have to codes with you on your arrival date.

Step 3
From here you can go to your room, please leave the key at the end of your stay in the letterbox.

Step 2
Once you have arrived you need to go to the building noted in your email. In the letterbox you'll find an enveloppe with your name and roomnumber, in the enveloppe you will find the key for your room.

From Amsterdam
A27 towards Antwerpen
E17 Gent, E40 towards Oostende
Exit 6 Jabbeke/N377 towards De Haan
From Lille
A22 towards Kortrijk/Gent, E17
E403 towards Brugge/Ieper, E40 towards Oostende
Exit 6 Jabbeke/N377 towards De Haan
From Brussels
E40 towards Gent/Brugge/Oostende
Exit 6 Jabbeke/N377 De Haan
Follow the road to the Elfhoekstraat. Take the second exit at the roundabout, the N377. Follow this road for five kilometers until the second roundabout. At the second roundabout go straight to the Vijfwegestaat. Drive until you join the Warvinge. At the end of the Warvinge, turn left into Grotestraat. After about one kilometer turn right into the Stationsstraat. At the end of the Stationstraat turn left into Driftweg. You will find Holiday Suites at your left. Attention, it's not allowed to stop here. The closest entrance is in the street Sparrenboslaan 30. Unfortunately, it's not possible to enter the domain with the car. So the best solution is, to park your car in Sparrenboslaan. It's free.
Holiday Suites wishes you a pleasant journey!
Type 'Sparrenboslaan 30' in your GPS. So you arrive at the right place. Upon arrival, you should see this. It's possible that Suity isn't there. But hey, he's doing his best to be there. It's not allowed to park your car on the domain. So the best is, to park your car in Sparrenboslaan.

Plan Holiday Suites De Haan
You'll receive an e-mail with the number of your residence a few days before your holiday. Check the plan to find your residence. That's the best way to your holiday apartment. Tip: print your e-mail or print this plan. The numbers are also on the buildings.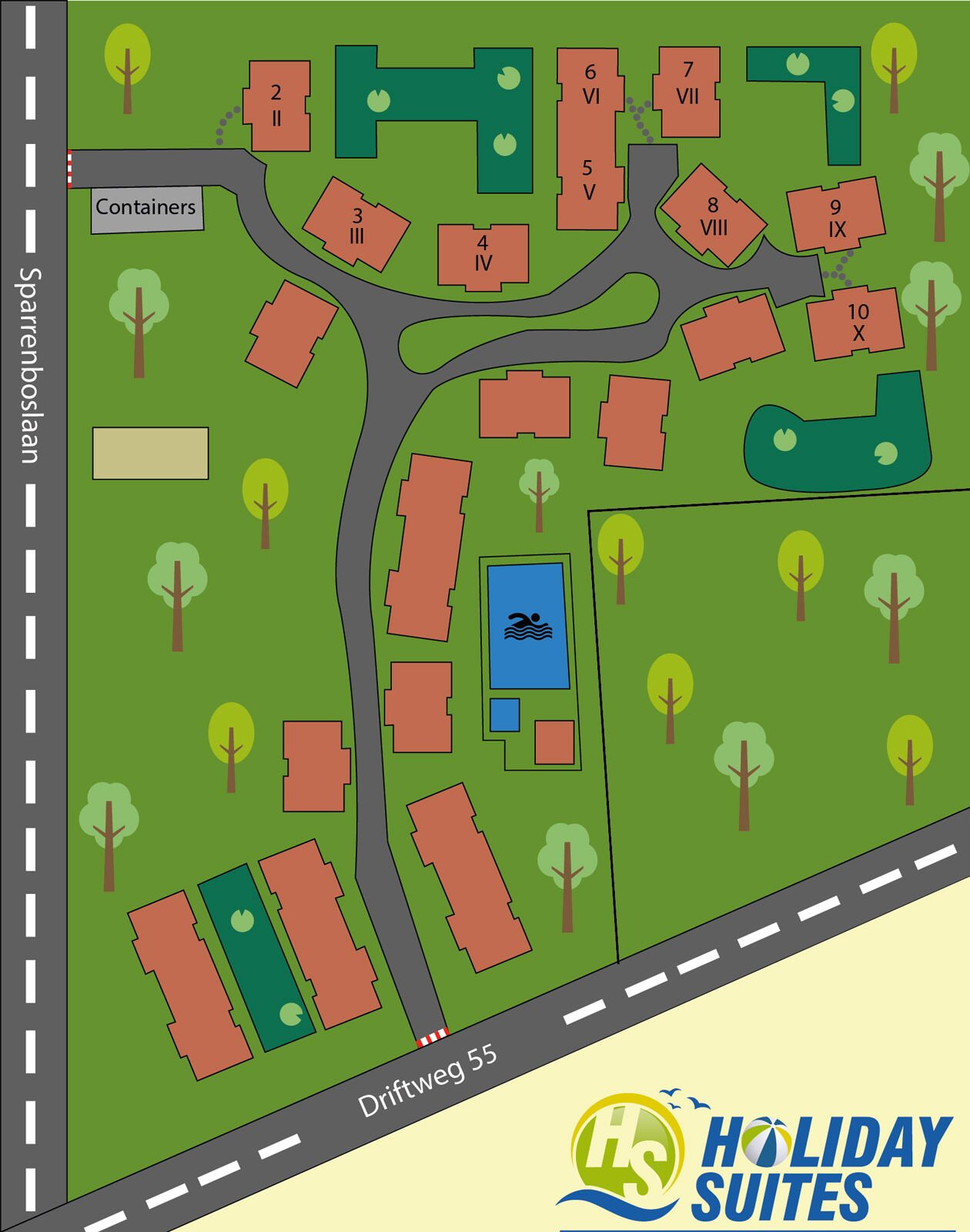 Address Holiday Suites De Haan
Holiday Suites de Haan
Sparrenboslaan
8420 De Haan